Website Video Production UK |

Short Web Video Services
Our website videos help businesses communicate an effective message to their target markets and existing customers. Its a fact that if you allow your prospective customers to do more of their due diligence online, it creates more interest and trust in gaining their business.
Does your existing clients and potential customers know of the pains you go through in delivering your unique product or service? AMI can help communicate your story!
Whether you are a large multi national company looking to showcase your new range of products or a small business looking to grow, we can offer an affordable solution for any website video services you may have.
We are a website video company that offers compelling video content at cost effective prices. Our professional website videos are also complemented by a range of specialist media services we provide, which include: website design & development, strategic on-line marketing options, corporate photography and much much more. This enables us to offer our clients a one-stop shop for making their business successful on the web.

Corporate Promotional Video Production: PRICING and COSTS

1. Small Budget 1 Minute Video - Includes: titling, graphics and more.


2. Full Corporate Promo Video - Includes: One days filming in HD - two man crew, prof. voice over and more.
    Full Corporate Promotional Video Example   Video length 3-7 minute depending on target market.

3. Full Corporate Video Production, Product & Corporate Photography,  Website design & build with SEO
    Example:  Video Example 1  / Video Example 2
Promotional website video services, include:
- Promotional company website video
- Promotional product demonstration video 
- Testimonial website video
- Full corporate video for the web
- Short modular web videos for product or sector pages
- Professional web video for events
- Franchise web videos
- Bespoke promotional website video services
- Marketing video for the web
PRICING
We are happy to provide a detailed quotation for any of your website video requirements.  
Email: lee@aspectdigitalmedia.co.uk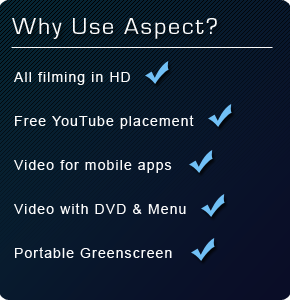 Quick Contact