DVD Video Editing Service | 
DVD Authoring UK
We are specialists in film and DVD video production and DVD editing services. Our services include script writing,planning and research, post production editing, producing and directing your DVD concept from initial idea to final edited video. All filming and editing is done in high definition. We also have a dedicated team who can help market your DVD on the internet if needed. You may require a DVD for retail, training DVD, documentary DVD, Informative DVD, Instructional DVD or bespoke DVD. 
We offer top quality DVD video production and editing services at affordable prices with payment terms if required. Please telephone us today for a quotation.
Professional DVD Video Productions Include:
Full DVD Video Production Service
DVD Case Design
DVD and CD Print Design
DVD Wallet
DVD Duplication
DVD Editing Service
DVD Re-edited Video or Updated Video
DVD Authoring
Aspect media international Ltd provide DVD editing services and DVD Video Production services for the following:
Schools and Educational DVD productions / Charity DVD editing services / Business DVD Video Productions / Event DVD Videos and much much more.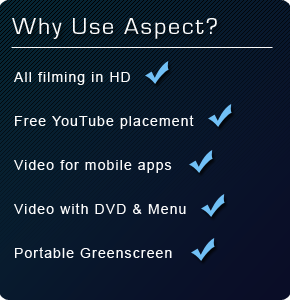 Quick Contact